TV Mounting should always be done by a professional licensed contractor. Installing a TV mount is the kind of project that seems like an easy task, however most customers start putting holes in your wall and start to wonder what to do with all the wires, they quickly realize they're in over your head. If the mount isn't installed securely to the wall studs you will have major problems on their hands.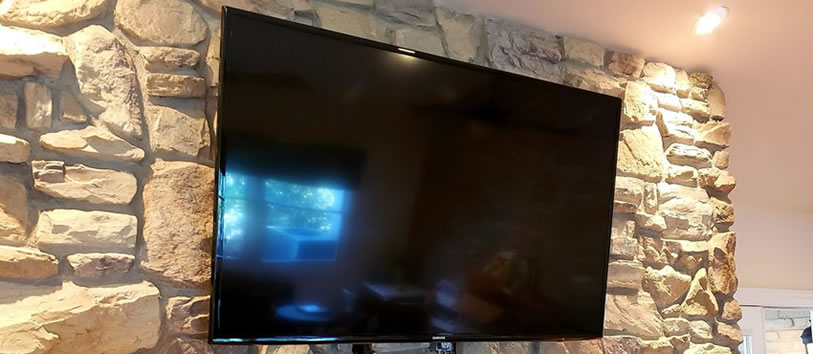 Free Auburn Hills TV Mounting Estimate
Michigan's Handyman is locally owned and operated, our Auburn Hills TV Mounting professionals will install your TV mount in no time. Our in-wall wiring and wire-concealment techniques are guaranteed to give your TV that clean, professional look.
An improperly installed TV mount can be a danger to your children and pets. Not to mention the possibility of drilling into electrical wires. If you have a tricky location and you're not sure we can help hanging your TV, give us a call at (248) 506-4000. We have seen it all! Tight spaces, electrical wiring, stone and brick fireplaces, even outdoor TV installations. From stone and brick fireplace TV mounting, over the fireplace TV installation, and TV mount wire concealing to commercial TV installation, we cover everything for you!
Our technicians are fast, friendly, and fair and we are licensed and insured. We offer a range of installation packages to suit your needs perfectly. With our same day/next day scheduling, and thousands of successful Auburn Hills TV installations and satisfied customers, you're in the right hands and your satisfaction is our top priority. We go above and beyond to offer a professional experience.
Auburn Hills TV Mounting Services Michigan
Add Electrical Outlets
Hang TV on Wall
Hide TV Wires
Install TV on Wall
Licensed Electrician
Mount TV
TV Mounting - Brick, Stone, Tile, Plaster, Wood Paneling
Wire Free TV Mounting
---
Do you need a Michigan Handyman with lots of satisfied references call (248) 506-4000 to speak to us, or fill out our free estimate form.