Deck Sealing/Staining and Cleaning is extremely important in Michigan's ever changing weather. If not properly sealed or finished your wood deck will attract dirt, mold, and even grow algae on it. Eventully causing it to look grey and weathered.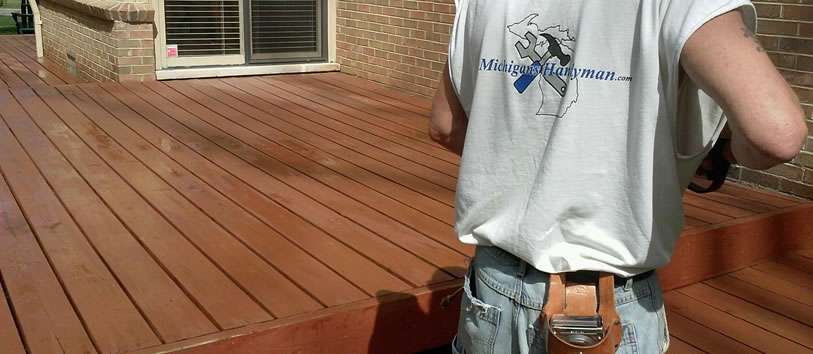 Free Westland Deck Sealing Estimate
Aside from bringing down the overall appearance of your home, wood that is left unprotected from the elements can dry out or rot causing cracks and decay in your expensive deck.
Michigan's Handyman can help protect and preserve your deck or fence. Do you have a new deck thats unstained or sealed? No matter how great your new deck or fence looks, it will start to gray within the first year. A fresh waterproofing coat will prolong your exterior woods life. Our process will clean, seal, and stain your deck or fence, increasing its life and value.
CLICK HERE TO APPLY FOR 0% Interest Free Deck Financing for up to 60 Months
When it comes to high quality affordable sealing, staining, waterproofing, and restoring decks, Michigan's Handyman is the deck restoration contractor Westland residents trust.
We use top of the line material and equipment to get the job done. Our work is complete in a timely manner, with neatness and efficiency, paying special attention to detail. We believe in budget, therefore we offer competitive rates.
We strive in obtaining good customer relationships for current and future services. We look forward to hearing from you and working with you soon.
Westland Deck Staining, Sealing, & Waterproofing Services
Seal Wood Deck
Clean Wood Deck
Quality Stains
Variety of Colors
Deck Railings
Waterproof Deck
Pressure Washing
Deck Repair
Stain Wood Deck
Deck Repair
---
Do you need a Michigan Handyman with lots of satisfied references call (248) 506-4000 to speak to us, or fill out our free estimate form.